Why Install Econofrost Night Covers in Your Refrigerated Display Cabinets?
Retailers specify Econofrost night covers for a variety of reasons…
You will save energy costs and reduce refrigeration and air conditioning costs which improve the return on your investment in expensive refrigeration systems. Econofrost night curtains typically pay for themselves within months of installation and retain their efficiency for the life of the refrigerated display cabinets to help protect your valuable, perishable refrigerated foods.
Rolling Econofrost night covers down when stores close at night stabilizes cold air in the refrigerated case and keeps hot air out, allowing products to stay colder and last longer. Product temperatures stay lower for up to 15 hours after the night covers have been rolled up.
Econofrost night covers maintain optimal night time temperatures and humidity levels inside open refrigeration display cases, prolonging the shelf life of food displays and allowing refrigeration equipment to operate more efficiently.
Econofrost woven night covers reduce condensation and store losses from drying and wilting products, especially in produce showcases.
Night Covers For Freezer / Island End Caps
Saving product in open freezer cases
Although the cold air in supermarket island freezers falls to the bottom of the case and is protected by air curtains, Econofrost night covers increase the freezer's efficiency by reflecting forced hot air away from the top sections of refrigerated cabinets.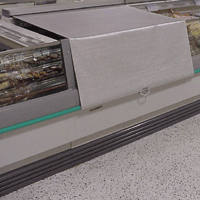 " The Assistant Manager showed me the frozen Pizza end cap and that he noticed how firm the pizza was. Before Econofrost covers were installed the pizzas would become soft and he would loose some product. Now even his sign had a little frost on it."
Econofrost night shields are cost effective solutions to insulating open freezer cases at night and protecting fragile product packaging from becoming soft, moist, and disintegrating.
OEM's Bringing Solutions To Market
Ask your OEM about installing Econofrost night covers on your cases
Refrigeration manufacturers can help supermarkets and retailers save money and stop wasting energy by installing Econofrost thermal shields on all their new cases. Designed by refrigeration engineers in response to the spiraling cost of energy, Econofrost is an industry-leading woven aluminum night cover that can be factory installed on new refrigerated display cases or your existing refrigeration cases.
Econofrost has established successful business relationships with many refrigeration equipment manufacturers who install our night covers as standard or optional features in their display cases. Econofrost thermal blinds are available in custom sizes for unique commercial merchandiser needs.
We invite you to learn more about our products by contacting us directly for further information on woven aluminum night covers for new refrigeration installations or retrofits.