Econofrost Provides an Overnight Solution with Daytime Impact
Night covers for supermarket refrigeration merchandisers
Food retailers can now significantly reduce commercial refrigeration energy costs by rolling down Econofrost reflective night shields while the store is closed. Stabilizing cooler temperatures overnight or during any power interruption, Econofrost night covers ensures fresher, longer lasting foods for greater shopper satisfaction.
The benefits of keeping refrigerated foods contained in refrigerated cases stabilized at ideal temperatures overnight can last up to 15 hours after the night covers have been rolled up in the morning. Where Econofrost woven aluminum night covers are installed, tests have shown energy savings to be as high as 37% to 50% during the hours of use and waste from daily produce trim reduced by up to 75%.
Lower Your Energy Costs with Econofrost
Saving money on costly refrigeration expenses
The grocery retail outlet is where open food display cabinets are subject to temperature fluctuations in the store environment or where ambient temperatures are very high as in tropical zones.
Use of Econofrost refrigeration night covers saves energy by substantially reducing the energy consumed by the refrigerator compressors. Energy savings can be as high as 37 to 50%.
In some locations, installing Econofrost refrigerator night shades will allow your supermarket to qualify for grants from utility companies and local and federal governments because our commercial refrigeration case night covers are recognized as an investment to reduce energy costs.
Some supermarkets have even been given favorable tax consideration for installing Econofrost night curtains.
Night Covers Lower Utility Bills and Operating Costs
Econofrost Retrofit and OEM night cover products generate savings every day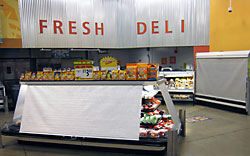 Econofrost night covers enables retailers to significantly lower their monthly utility bills and save money by reducing the amount of energy used and reducing the workload on the refrigeration equipment.
Retailers enjoy a more efficient refrigeration system with less compressor run time, less defrost cycles and more stable case and product temperatures.
Ultimately, this translates into a greater conservation of energy at the store level which means lower operating expenses and significant savings reflected on your monthly utility bill.
It is a quick and easy operation to roll down the covers at the end of the day.
Econofrost retractable thermal shields help extend the shelf life of perishable foods to bring direct savings by allowing your refrigerated display cases to operate more efficiently.
" The produce/cheese case pull-down "shades" have saved me $400.00-$500.00 on electricity alone for each and every month since installation."

Tuscany Fresh Meats & Deli